Sorbsan Plus Border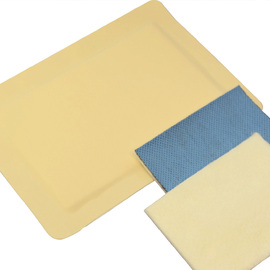 Description
A self-adhesive calcium alginate wound dressing. The calcium alginate wound contact layer is bonded to a secondary absorbent layer, which in turn is covered with a beige microporous, thin, foam backing. This extends to provide the dressing with a hypoallergenic acrylic adhesive border.
Indications
For highly exuding wounds.
Contraindications
Do not use in individuals with a known sensitivity to any components of the dressing.
Sizes Available
11.5x14cm (wound contact pad 6.5x9cm + border 2.5cm);
14x19cm (wound contact pad 9x14cm + border 2.5cm);
14x24cm (wound contact pad 9x19cm + border 2.5cm);
19x24cm (wound contact pad 14x19cm + border 2.5cm)
Price
£3.11; £4.52; £5.47; £6.87
More on: Alginates