C-View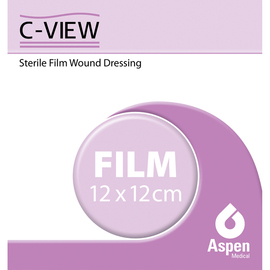 Description
A polyurethane sterile, semipermeable, transparent film dressing with a hypoallergenic acrylic adhesive. Provides a barrier to bacteria and water.
Indications
Wounds with no or light exudate levels, such as minor burns, donor sites, superficial pressure and leg ulcers, clean closed postoperative wounds, and cuts and abrasions. Can also be used to protect against skin breakdown due to friction and moisture, for fixation of catheters and as a primary or secondary dressing.
Contraindications
Not to be used on patients with known sensitivities to any of the dressing's components. When clinical infection is suspected, remove the dressing and consult a medical practitioner for advice.
Sizes Available
6x7cm; 10x12cm; 12x12cm; 15x20cm
Price
£0.38; £1.03; £1.10; £2.38
More on: Films