AquaForm Hydrogel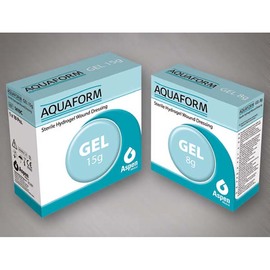 Description
A clear, viscous, sterile gel.
Indications
Suitable for most types of ulcers, including pressure ulcers and other low exuding sloughy or necrotic wounds. Assists in the debridement and removal of necrotic and other devitalised tissue. The gel can be used to soften and hydrate necrotic tissue, helping to rehydrate granulating wounds.
Contraindications
Do not use in individuals with a known sensitivity to any of the components. Do not use on full- thickness burns. Precaution: where wound infection is observed, the patient should be treated under the medical advice of a physician and the appropriate systemic treatments should be instigated when so directed. Treatment with AquaForm may be continued, under medical supervision.
Sizes Available
8g tube; 15g tube
Price
£1.67; £2.04