Silgen Ag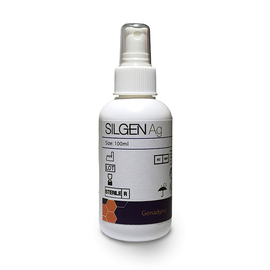 Description
A class 3 silver spray made from nanocolloidal silver suspended in purified water with antimicrobial properties. Single-patient, multiple use.
Indications
All chronic and acute wounds such as leg ulcers, diabetic foot ulcers, pressure ulcers, surgical wounds, graft sites, postoperative wounds, traumatic wounds, first- and second-degree burns and skin folds (bariatric).
Contraindications
Do not use if the individual has a confirmed allergy to silver. Do not use before a MRI scan or on lactating mothers.
Sizes Available
5ml, 10ml, 25ml
Price
£17.80; £25.40; £48.20
More on: Silver , Antimicrobial