Accel-Heal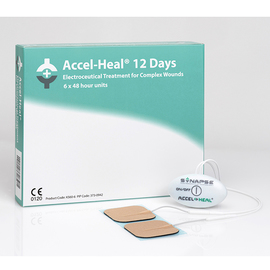 Description
A single-use, wearable, easy-to-use electrical-stimulation device. Delivers an automated programme of subsensory electrical pulses over a 12-day period to relieve pain and stimulate healing in hard-to-heal wounds.
Indications
For use on hard-to-heal wounds including leg ulcers and diabetic foot ulcers, and may be used to kick start the healing process in stalled wounds. Can help patients with painful wounds who may not be able to tolerate gold-standard treatments such as compression therapy and whose pain prevents them from carrying out their daily activities.
Contraindications
Cancer in the wound; untreated osteomyelitis. Use with caution on patients with pacemakers. Do not apply the electrodes directly over the pacemaker. Refer to the instructions for use for further information. 
Sizes Available
7x4x2cm
Price
£240.00 (6 units, each delivering 2 days of therapy)
More on: Other medical devices , Electrical stimulation