Tegaderm Hydrocolloid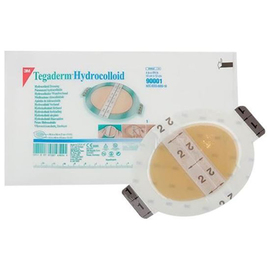 Description
An advanced, highly absorbent, conformable, hydrocolloid dressing with Tegaderm Film backing layer. Maintains odour control and contains no pectin, gelatine or any other animal derivatives.
Indications
Low to moderately exuding chronic wounds including leg ulcers, pressure ulcers, skin graft donor sites as well as first- and second-degree burns.
Contraindications
Do not use on clinically infected wounds, and with caution on wounds likely to develop infection (e.g. arterial ulcers). Not recommended for use on deep burns or wounds with exposed bone, muscle or tendon.
Sizes Available
10x12cm (oval); 13x15cm (oval); 10x10cm; 16.1x17.1cm (sacral)
Price
£2.40 (oval); £4.48 (oval); £2.44; £5.00 (sacral)
More on: Hydrocolloids