Tegaderm Hydrocollid Thin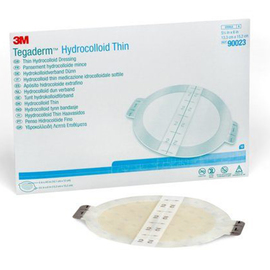 Description
Very thin, absorbent, hydrocolloid dressing with Tegaderm Film backing layer. In oval shapes, this extends to form an adhesive border. Conformable and waterproof. Transparent, allowing for wound observation. Maintains odour control and contains no pectin, gelatine or any other animal derivatives.
Indications
Low to moderately exuding wounds including leg ulcers and pressure ulcers.
Contraindications
Not recommended for use on infected wounds, deep wounds, deep burns or wounds with exposed bone, muscle or tendon.
Sizes Available
10x12cm (oval); 13x15cm (oval); 10x10cm
Price
£1.60 (oval); £2.98 (oval); £1.58
More on: Hydrocolloids