Tegaderm Alginate Ag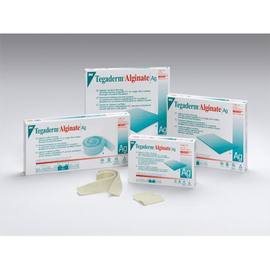 Description
Highly absorbent, sterile, non-woven, antimicrobial pad composed of a high G (guluronic acid) calcium alginate, carboxymethyl cellulose (CMC) and an ionic silver complex that releases silver ions in the presence of wound exudate.
Indications
Moderately to heavily exuding infected wounds: postoperative wounds; trauma wounds; leg ulcers; pressure ulcers; diabetic ulcers; graft and donor sites; cavity wounds; superficial- and partial-thickness burns.
Contraindications
Not for use on dry wounds or those covered in hard eschar.
Sizes Available
5x5cm; 10x10cm; 3x30cm (rope)
Price
£1.42; £3.30; £3.77 (rope)
More on: Alginates , Silver , Antimicrobial