Cavilon No Sting Barrier Film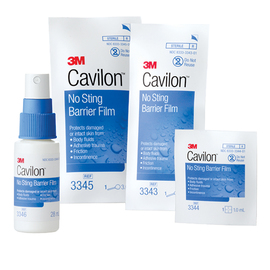 Description
Protective, transparent barrier film. Alcohol-free formulation is pain-free on broken skin and provides up to 72 hours' protection before re-application. Non-cytotoxic.
Indications
Primary barrier against body fluids due to incontinence; protective barrier against aggressive adhesive products; skin protection around stoma sites; peri-wound protection from exudate.
Contraindications
Allow product to dry completely before applying pads or clothing. Too many layers may make the area feel stiff. Can affect electrode readings in the treated area. Not to be used with other barrier creams or lotions.
Sizes Available
28ml pump spray (3346P); foam applicators (pack of 5): 1ml (3343P), 3ml (3345P); stoma wipes (pack of 30) (3344E)
Price
£5.85; £4.09; £6.62; £23.76
More on: Skin protection