Cavilon Continence Care Wipes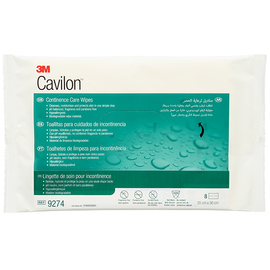 Description
No-rinse skin wipes for the treatment of incontinence-associated dermatitis (IAD). The wipes contain 3% dimethicone and are biodegradable, pH balanced, perfume- and paraben-free, soft and hypoallergenic.
Indications
To cleanse, moisturise and protect the skin post-incontinence; treatment and prevention of IAD.
Contraindications
For external use only. Avoid contact with the eyes. Not intended for skin disinfection.
Sizes Available
20x30cm wipes (x 8)
Price
Not available on the NHS. £2.06 via NHS Supply Chain
More on: Skin protection