3M Tegaderm +Pad Film Dressing with Non-Adherent Pad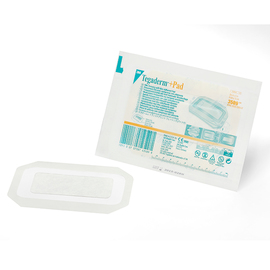 Description
A waterproof bacterial and viral barrier dressing. Consists of a non‑adherent absorbent pad bonded to a larger thin film backing with a non-latex hypoallergenic adhesive.
Indications
Acute wounds such as cuts, superficial- and partial-thickness burns, abrasions, intravenous catheter sites and surgical incisions. Can also be applied to low-exuding superficial- and partial-thickness chronic wounds including pressure ulcers, venous leg ulcers and diabetic foot ulcers. Must only be used as indicated.
Contraindications
Best used 24 hours after hip or knee replacement surgery as a postoperative dressing, if there is a risk of high exudate levels immediately post surgery. Not recommended for use over deep cavity wounds, exuding wounds, infected wounds.
Sizes Available
5x7cm; 9x10cm; 9x15cm; 9x20cm; 9x25cm; 9x35cm
Price
£0.26; £0.66; £0.97; £1.42; £1.60; £2.65
More on: Absorbents