3M Steri-Strip Adhesive Skin Closures (Reinforced)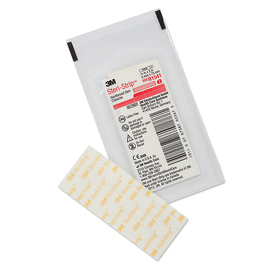 Description
Skin closure strip with microporous non-woven material designed to let the skin 'breathe' and reinforced filaments for added strength. Coated with a hypoallergenic adhesive.
Indications
For use as a skin closure device in the treatment of lacerations and surgical incisions. Can also be used with skin sutures and staples (or after their removal) for wound support. 
Contraindications
Where adhesion cannot be obtained because of the presence of exudate, skin oils, moisture, or hair. Do not use on infected wounds and high-tension wounds that cannot be easily approximated with fingers or forceps.
Sizes Available
6x75mm (3 strips/envelope, 12 envelopes/box)
Price
£9.08 (12 envelopes x 3 strips each)
More on: Skin closure/tissue adhesives , Basic dressings