Tielle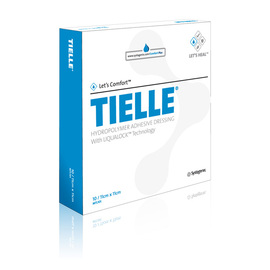 Description
Hydropolymer foam island dressing with fluid-locking technology to reduce the risk of leakage. Has a vapour-permeable film backing and adhesive border. Can be used under compression.
Indications
Low to moderately exuding wounds: pressure ulcers, leg ulcers, diabetic foot ulcers and donor sites.
Contraindications
Third-degree burns or wounds with active vasculitis.
Sizes Available
7x9cm; 11x11cm; 15x15cm; 15x20cm; 18x18cm; 18x18cm (sacral)
Price
£1.29; £2.40; £3.92; £4.90; £4.99; £3.63 (sacral)
More on: Foams