Tielle Silicone Border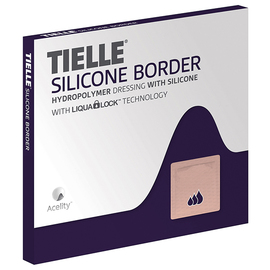 Description
Hydropolymer foam island dressing with fluid-locking technology to reduce the risk of leakage and soft silicone adhesive to allow gentle removal. Has a breathable polyurethane film that wicks away moisture and prevents water and bacterial ingress. Can be used under compression.
Indications
Low to heavily exuding wounds: lower extremity ulcers, pressure ulcers, diabetic foot ulcers, donor sites and postoperative or traumatic wounds
Contraindications
Third-degree burns or wounds with active vasculitis.
Sizes Available
7x9cm; 10x10cm; 12.5x12.5cm, 17.5x17.5cm; 21x22cm
Price
£1.45; £2.13; £2.61; £5.14; £6.07
More on: Foams