Promogran Prisma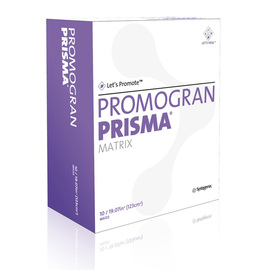 Description
Sterile, freeze-dried composite of oxidised regenerated cellulose (ORC), collagen and silver ORC (a compound of silver and ORC). Gels on contact with exudate. Inactivates proteases, protects from infection and protects growth factors. Demonstrates haemostatic properties, and can be used under compression therapy.
Indications
All chronic wounds clear of necrotic tissue, including diabetic foot ulcers, venous leg ulcers, pressure ulcers and mixed aetiologies ulcers.
Contraindications
Known hypersensitivity to the components of this product. Discontinue if signs of sensitivity appear.
Sizes Available
28cm2; 123cm2 (dressings are hexagonal)
Price
£6.62; £18.85
More on: Antimicrobial , Silver , Protease modulating dressings