Nu-Derm Hydrocolloid Border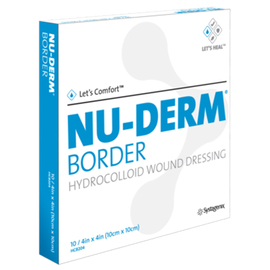 Description
Hydrocolloid wound contact layer with adhesive border. The top layer is a semi-permeable polyurethane film.
Indications
Primarily indicated for light to moderately exuding pressure ulcers and leg ulcers.
Contraindications
Dermal ulcers involving muscle, tendon and exposed bone. Consult a physician before using on lesions caused by tuberculosis, syphilis or deep fungal infections, cancer and wounds at high risk of infection. Third-degree burns. Clinically infected wounds.
Sizes Available
5x5cm; 10x10cm; 15x15cm; 20x20cm; 8x12cm (elbow and heel); 15x18cm (sacrum)
Price
£0.86; £1.57; £3.21; £6.41; £3.21 (elbow and heel); £4.49 (sacrum)
More on: Hydrocolloids