KerraFoam Simple Border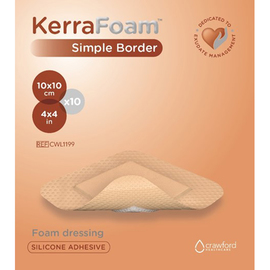 Description
An absorbent, sterile, silicone foam dressing. Secured with a soft silicone adhesive to minimise pain and trauma to the skin during dressing changes.  
Indications
A wide range of moderately exuding wounds, such as leg ulcers, diabetic foot ulcers, pressure ulcers, traumatic wounds, minor burns, donor sites, postoperative wounds and skin abrasions. 
Contraindications
Full-thickness burns. Known allergy or hypersensitivity to any of the components. 
Sizes Available
7.5x7.5cm; 10x10cm; 10x20cm; 12.5x12.5cm; 15x15cm; 15x20cm
Price
£1.11; £1.55; £2.86; £2.25; £2.82; £4.50
More on: Foams