KerraFoam Gentle Border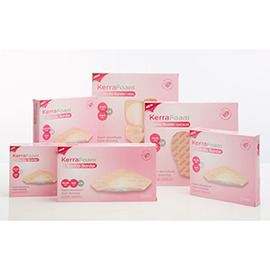 Description
Foam dressing with a gentle silicone wound contact layer and lock-away core. The outer polyurethane film layer is water resistant and provides a bacterial barrier.
Indications
Exuding wounds such as leg ulcers, pressure ulcers and diabetic foot ulcers. Suitable for use under all forms of compression.
Contraindications
Not a haemostat, so should not be used on bleeding wounds.
Sizes Available
7.5x7.5cm; 10x10cm; 10x20cm; 18x21cm; 12.5x12.5cm; 17x17.5cm (sacrum); 23x26cm (sacrum); 25x23cm (heel)
Price
£1.48; £2.17; £3.49; £2.64; £5.40; £4.57 (sacrum); £8.49 (sacrum); £8.14 (heel)
More on: Foams