KerraContact Ag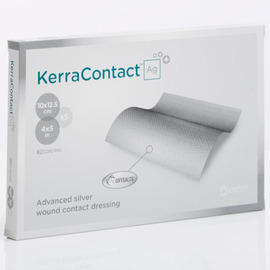 Description
An advanced silver wound contact layer dressing. The dressing consists of three layers: two non-adherent polyethylene mesh wound contact layers and one absorbent core made of polyester. All three layers are coated with Ag Oxysalts. 
Indications
For the management of partial-and full-thickness wounds including venous leg ulcers, diabetic foot ulcers, burns, grafts and donor sites, or other acute or chronic wounds. The dressing may be used over debrided and grafted wounds.
Contraindications
Should not be used on individuals who are sensitive to or who have had an allergic reaction to the dressing or its components. 
Sizes Available
5x5cm; 10x12.5cm; 15x15cm; 20x40cm
Price
£3.24; £7.91; £13.86; £42.30
More on: Silver , Antimicrobial