Biosorb Gelling Fibre Dressing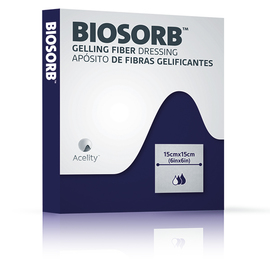 Description
A soft, conformable, non-woven dressing made from sodium carboxymethyl cellulose and strengthening cellulose fibres. Designed to absorb fluid while maintaining its structural integrity and to make dressing changes less painful.
Indications
Moderately to heavily exuding acute or chronic wounds including leg ulcers, pressure ulcers (categories II to IV), diabetic foot ulcers, exuding surgical wounds, partial-thickness burns, traumatic wounds and oncology wounds. Can  be used under compression bandages.
Contraindications
Do not use on people who are sensitive or allergic to the dressing and its components. Not intended to be used on wounds with severe bleeding, inside internal body cavities or closed wounds.
Sizes Available
5x5cm; 10x10cm; 15x15cm, 2x45cm (rope) 
Price
£0.80; £1.91; £3.60; £1.97
More on: Absorbents